CALPADS Consulting
Complete your CALPADS submissions with confidence with help from our team of experts.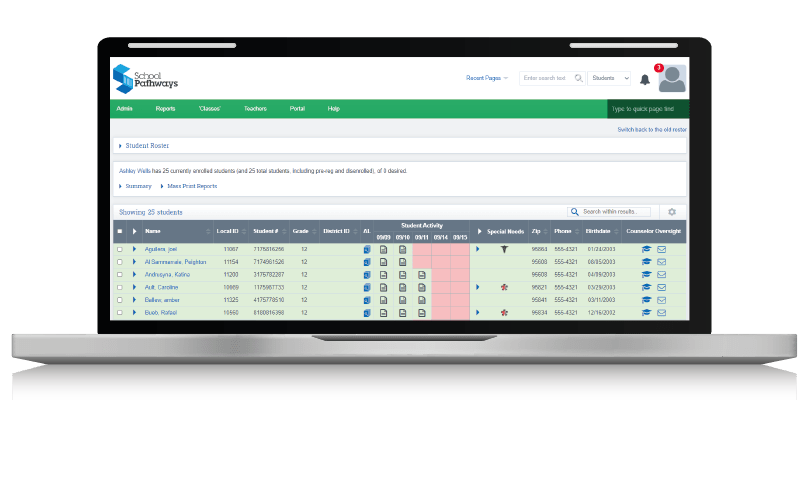 Our CALPADS Consulting Process
Call our team today to schedule a free CALPADS consultation. Based on this consultation, our consultants will help to determine the steps you require for certification as well as the time and level of assistance you need.
You choose the type of consulting plan that best fits your needs, from hourly contracts if you just need questions answered or more complete consulting packages if you need us to do all of your reports.

We're SIS Agnostic
We specialize in CALPADS reporting not only in our own student information system, but also in PowerSchool, Aeries, Genesis, SchoolMaster, SchoolMax, SchoolWise, and other custom systems.
CALPADS Consulting: Our Areas of Expertise
Our CALPADS consulting services give you the breathing room you need to focus on providing quality education. Our consultants help set a course for your CALPADS certification and walk you through the process, regardless of whether you use our SIS.
Get personalized, one-on-one or small group training in the CALPADS environment. Benefit from consultation that enables you to complete submissions quickly and efficiently.
Avoid Known and Common CALPADS Reporting Errors
Thanks to our deep and ongoing expertise, we're familiar with common CALPADS errors and can help you prevent error-ridden submissions. We have solutions for common errors and can assist you to resolve anomalies.
Take confidence in your submissions, save time and effort, and learn how to improve your CALPADS reporting for the future.

Experts in CALPADS Reporting For a Variety of Instruction Types
Our team of CALPADS consultants are specialists in reporting and CALPADS support for alternative programs including virtual, independent study, adult, special education, continuation, and Community Day.
School Pathways is awesome! Their professional and expertise in CALPADS reporting is unsurpassed. They were there every step of the way with the help and encouragement that I needed. I would recommend the services to any district wholeheartedly and without reserve.
– Jamie Leiber
– Registrar, Lassen Union High School District, CA
Schedule Your CALPADS Consulting Session Now
To find out more about our solutions, our support or services, or to get a demo, contact us.
Why School Pathways
Discover why schools love us, what sets us apart from other providers, and our unique history and focus on personalized learning.
Hybrid and Distance Learning
Discover how we help educators deliver outstanding learning experiences in hybrid and distance learning environments.
Contact Us
To find out more about School Pathways, our products, our solutions, or to get a demo, contact us today to speak with a team member.