School Pathways Training
Network. Learn. Grow.
2019 School Pathways' 5th Annual Spring Academies

Registration is now open!
TWO SCHOOL PATHWAYS' ACADEMY OPPORTUNITIES!
Registration is now open for the 2019 School Pathways' Spring Academies! Presentation breakout sessions will be available on new and existing features you may not be aware of, and presenters will give you great tips to make using the SIS and your job easier. Sessions are designed around job roles and not only allow you to get a better experience while using the SIS, but to meet others that perform the same job duties as you to open up topics of conversation and provide you with long-term peer support.
Garden Grove, California:  3/27-3/28/2019

Embassy Suites by Hilton Anaheim – South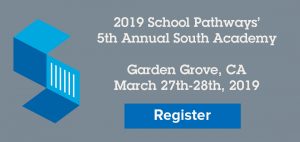 Sacramento:  5/6-5/7/2019

Embassy Suites Sacramento Riverfront Promenade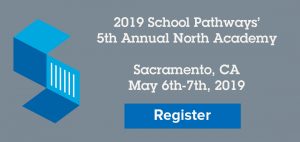 Session information will be released February 2019!

________________________________________________________________________
See what people are saying about the 2018 Academies!
"Every session I attended was useful.  I learned something new in each one."
"All sessions were very informational, especially with "Best Practice" directive."
"I think every new staff or employee should attend at least one School Pathways Academy."
"My first time and I'll be back!"
"Loved the question and answer session!"
"Great workshops"
"Instructors are knowledgeable and professional."
"I really enjoyed the conference! Excited for next  year's conference!"
"Your training sessions get better with every event.  Your staff and your product are simply the BEST!"
"Great learning experience.  I feel my value has increased with the knowledge you have provided."
"Very informative.  Well worth the trip."
"The deep School Pathways program operated by responsive admin and account managers is an invaluable tool for data management.  School Pathways makes my job easier and I love sharing with others ways that this program can make their job easier as well!!"
"As a counselor, this conference was invaluable!  Thank you!"
"I appreciate the organization of the event: scheduling, breaks, snacks – all are scheduled and planned out well.  Thank you."