PLS - Personalized Learning System
And educational plan for every student
This web-based teacher tool is used to organize a full range of curriculum for one individual student while doing the same for all other students on his/her roster.
The PLS software has received acclaim from auditors and WASC teams statewide and is the only private company software to be featured in the CASBO Audit Guide.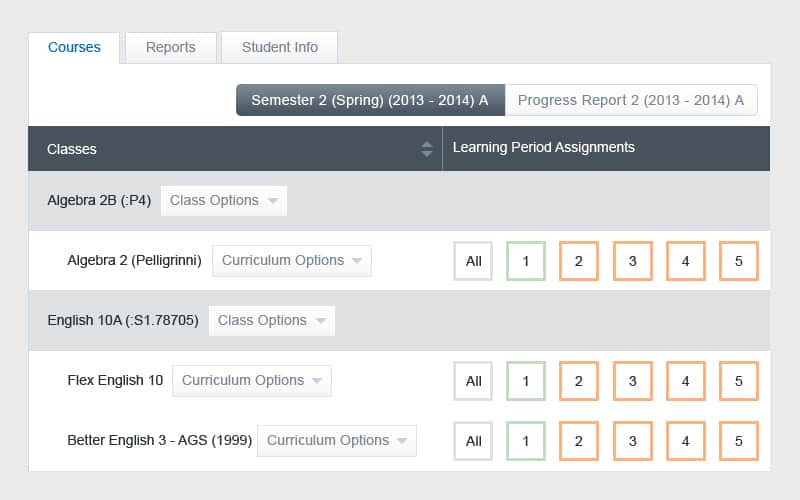 Curriculum
Teachers can choose from over 7000 different curricula choices for their students at the click of a mouse!

Teachers easily customize curriculum to meet the needs of the individual student
Database maps and highlights the appropriate skills objectives, assignments, and assessments a student will engage in to learn specific subject matter
A

ssignments in core texts automatically note the objectives and key Common Core Standards that correspond to the assignments attempted through course work
Lesson Plans
Delivers individualized lesson plans to meet each students' needs
Site-based teachers:

Personalize curriculum maps to support and define specific student classroom needs

Alternative education teachers (independent study, home hospital, continuation schools, adult education, court schools, Community Day programs, etc.)

Gain responsive assignment and student learning management capabilities previously unavailable in Alternative Education settings
Master Agreements
Contracts, or what we call Master Agreements, define the student's learning plan for the school year
A Master Agreement Addendum can be created for changes in student coursework
Content  Specialist Teachers and specialized staff can sign off and have oversight of coursework completed
Attendance
Teachers can view daily activity of students in Independent Study to assess if attendance should be granted
Activity Logs support attendance claims for non seat-based instruction
Attendance can be taken daily or after assessing amount of work completed
Attendance can be taken for entire roster or one student at a time
Automatically notes student's daily time on-task, assignments accessed and those completed for online courses
Pricing
The cost of the PLS is less than the cost of one consumable textbook per student per year. You pay only for those students active in program. With no setup fees, training is included while unlimited phone support gives you peace of mind. The system is designed to track student work amount, quality and time-on-task.  Usage may be used to demonstrate compliance with state laws for non seat-based education programs.
Cost: $3.00 per student/month
The enrollment process in SpSIS is sooo much faster and easier than the one in the other program we were using. I can do ten enrollments in SpSIS in the time it took me before.
– Linda
Somis Academy