Learning Management Systems
See how School Pathways SIS can link you to online curriculum providers!
School Pathways links with Learning Management Systems that provide online curriculum choices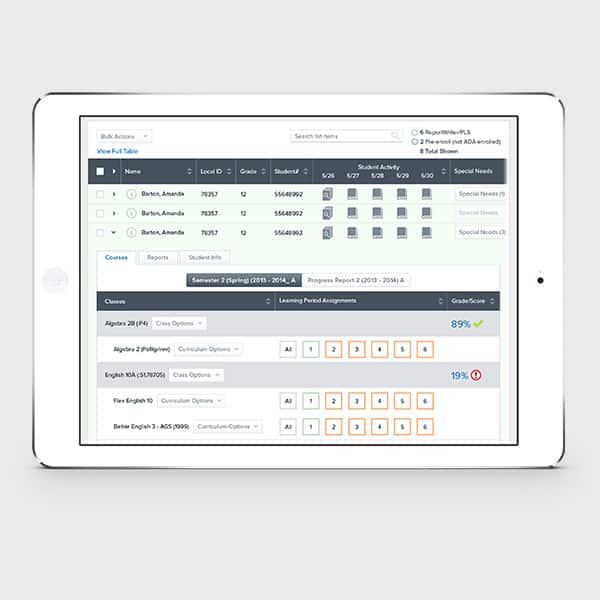 Featuring a rich bank of virtual curriculum choices along with the ability to create your own, the LMS allows you to tap into thousands of online resources. School Pathways provides single-sign-on (SSO) capabilities directly with K12, Edgenuity, and Odysseyware and also platforms that provide links to many other providers by linking to Agilix Buzz platform for both students and teachers.
The deep integration brings over:
Name of the course
Amount of time engaged in online assignments by subject matter
Number of assignments submitted by student for grading
Unit and assignment titles
Student daily engagement showing assignments completed, state standards attempted, assignment grades,  and time on-task
Final course grades also transfer and all courses and student work transfer to the Personalized Learning System's compliant paperwork including master agreements, assignment and work records, learning logs, and report cards.
All users can use the SSO process by starting in the SIS and "jumping" to their courses in the curriculum provider's system:
Students: Log into online courses through the SIS portal link via school website
Teachers: Log in via the SIS
No extra/different passwords are needed in this SSO method. The connection to the virtual curriculum providers is quick and easy!
Pricing
*Pricing varies per Curriculum Vendor. Contact School Pathways for a list of Supported Curriculum Vendors and more information on the depth of integration provided per vendor.
Your programmer knows his stuff, but he is also personable, helpful and nice! All of you at School Pathways have been excellent and service-oriented. Keep up the great work with your excellent product and service!
– Becky Hofer
Mid-Valley Alternative Charter School