Integrated Online Curriculum for Schools
Access your content in our platform; over 7,500 pre-built lesson plans and digital content integrations with dozens of publishers.

7,500+ Pre-built Publisher Lesson Plans
We allow your teachers to rapidly create online, individual instruction plans with our library of lesson plans from your favorite publishers.
Rapidly Create Individual Instruction Plans with Pre-built, Standards-aligned Publisher Lesson Plans
Building lesson plans takes time, focus, and skill, particularly when teachers are creating individualized plans for learners in non-classroom contexts. With our integrated online curriculum, educators can create and modify instructional plans in minutes rather than hours; choosing from pre-loaded publisher lesson plans and content integrations aligned to Common Core, iCAN, NGSS or your local standards across a wide variety of subjects.
Our Connected Digital Content Makes Online Learning a Reality for Students
Ensuring students have access to curriculum can be challenging, especially when instruction is being delivered virtually or outside the classroom. Our platform provides teachers and students with access to the digital content you've selected, allowing them to access digital instructional materials directly through our platform. We collect and aggregate activity data from your content providers so that your teachers can see which students are engaged and progressing and which ones need more help and attention.

Integrations With Several Leading Digital Content Providers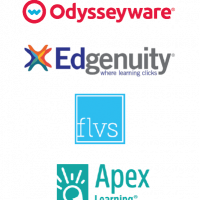 Thanks so much. You guys are great. The success of your business is reflected not only in the quality of your product but in the superior service you provide your clients. Thanks for making our job easier.
– Kathy
– Long Valley Charter School, CA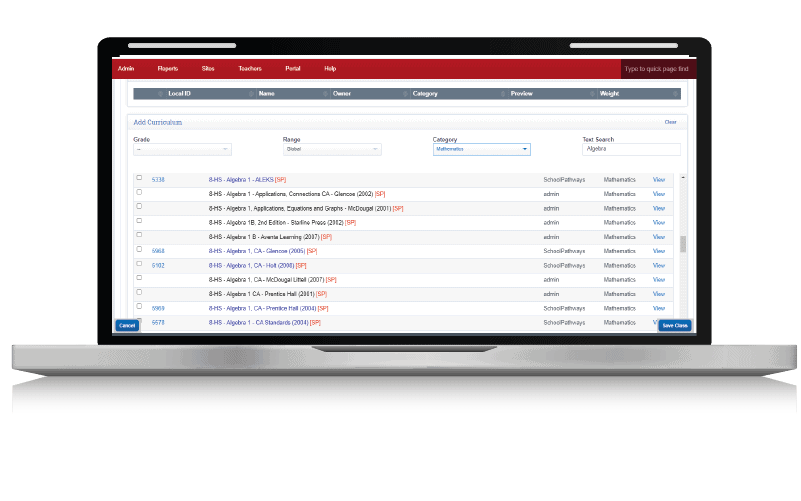 Find, Select, Customize, and Implement Lesson Plans
Whether you're looking for a lesson plan for a single student who needs extra help on a particular subject, or you need an entire course plan for a class of 30, quickly build learning material from pre-loaded publisher lesson plans covering hundreds of subjects and grades. Our library of lesson plans are standards-aligned and include materials from your favorite publishers.
Access to Digital Content Enables Online Learning
Provide students with access to digital curriculum and instructional materials from your selected content providers, getting them immersed in online learning through the School Pathway's portal.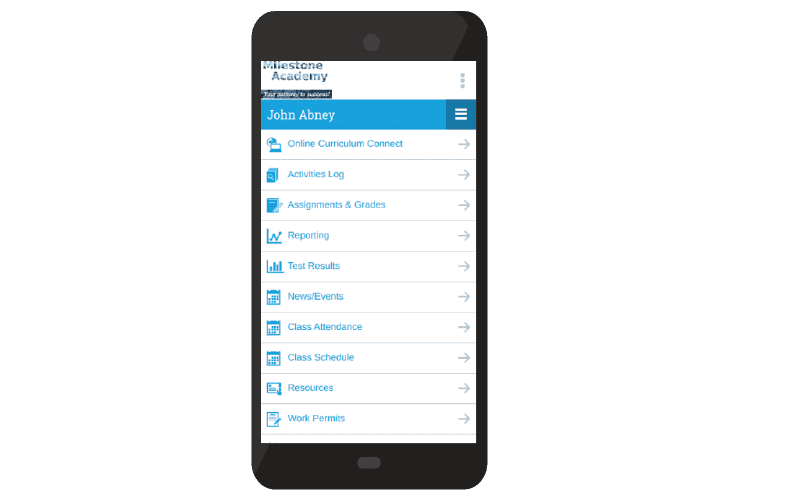 Find Out More About Our Integrated Online Curriculum
To find out more about our solutions, our support or services, or to get a demo, contact us.
Highlighted Features of Our Integrated Online Curriculum

COMMON CORE-ALIGNED

STANDARDS-ALIGNED

7,500+ PRE-BUILT LESSON PLANS

STUDENT TIME-ON-TASK

LMS AGNOSTIC

TRACK STUDENT PROGRESS

INTEGRATED WITH STUDENT AND TEACHER PORTALS

ACCESS TO DIGITAL CONTENT PLATFORMS
Why School Pathways
Discover why schools love us, what sets us apart from other providers, and our unique history and focus on personalized learning.
Personalized Learning System
Support 1:1 learning in any learning context for short or longer periods of time to ensure student outcomes.
Contact Us
To find out more about School Pathways, our products, our solutions, or to get a demo, contact us today to speak with a team member.