Case Study: California Pacific Charter Schools
CalPac Charter Pioneers Virtual Instruction, Delivers Improved Student Outcomes, is a Top Choice for Families
Christine Feher is an Executive Director at California Pacific Charter Schools (CalPac), an online charter school based in Orange County, California, and serving students in over two dozen counties throughout the state. Ms. Feher is a leading educator in the realm of online learning and in 2019, she was the Association of California School Administrators (ACSA) Region 18 Administrator of the Year, receiving the Pioneer Award for excellent leadership in Non-Classroom Based Charter School Education.
When Ms. Feher took the job as the Executive Director, the school had recently separated from their previous charter management organization and there was a lot of work to be done to deploy the technology needed to support the new school's personalized, online instruction model.
A key consideration for Ms. Feher and CalPac was to find integrated technology (administration & instruction) that would allow their teachers to deliver virtual instruction that yielded demonstrably positive learning outcomes for their students.  Ms. Feher explained that CalPac needed "A one-stop-shop that would do everything. I needed to be able to look at something (a Student Information System) and know if it would work or not. We were at a point where if we didn't find an effective new system the school was going to shut down." 
Given CalPac's focus on providing outstanding instruction and top-notch academic results, the system selected by Feher and team would also have to support a complete re-engineering of CalPac's high school transcripts.  "What we had was a glorified Word document or Excel spreadsheet. You typed it in and it was there.  School Pathways allowed us to set graduation requirements, and tag courses to indicate what requirements they filled. It also generated GPAs," explained Feher. 
School Pathways was the clear choice to meet CalPac's needs.  Feher said, "I wrote the RFP, and we selected School Pathways. In three months, we chose an SIS, chose our curriculum, and chose an LMS. We implemented everything as a completely integrated solution."  
When asked to provide more detail on how School Pathways facilitated instructional creativity that yielded positive student outcomes at CalPac, Feher explained, "It starts with the technology. The technology creates space so we can get creative on our side. If you don't have the technology upfront then you don't have the bandwidth to get creative.  You take on even more space as you tack on more and more to the technology you are using."
CalPac has delivered exemplary academic results as illustrated by the steady improvements in their students' state assessment proficiency levels and graduation rates over time.  
CalPac Student CAASPP ELA Scores

CalPac Student CAASPP Math Scores 

CalPac Student Graduation Counts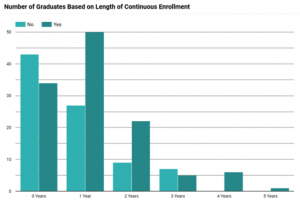 By prioritizing integrated instructional technology and using School Pathways as their core platform, the educators at CalPac have achieved their objective of delivering outstanding virtual instruction. In doing so, they have had a profoundly positive impact on the educational outcomes of the students they have served. Ms. Feher and the CalPac team are well-positioned to continue to grow and help more families successfully make the transition into a virtual learning environment.